The inspection standards and assessment
There are two types of Inspection Provider, fixed Inspection Locations and Mobile Inspection Services.
Inspection Locations
Fixed workshops which carry out SLPS inspections on premises owned or occupied by the Inspection Provider.
Mobile Inspection Services
Mobile Inspection Providers whose technicians carry out SLPS inspections at sites owned or occupied by customers or third parties.
Inspection Providers must demonstrate that the inspection standards set out by the Management Group are met. A copy of the inspection standards, which includes the assessment criteria, can be downloaded from the list on the right hand side of this page.  Please note that assessment against these standards are separate for fixed Inspection Locations and Mobile Inspection Services.
Generally all the standards apply to all Inspection Providers. However, there are additional requirements for Inspection Providers inspecting vehicles used to carry petrol or ethanol, as well as those that use inspection pits for SLPS inspections. These are summarised below.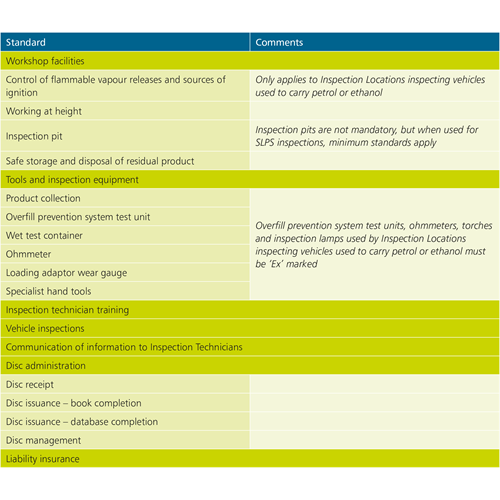 The scheme applies to individual Inspection Providers so a separate application should be completed for each location, even if it is part of the same group. For more information contact info@safeloadingpass.co.uk. 
It is important to note that the SLPS standards and approval processes relate only to the requirements needed to carry out and manage Safe Loading Pass inspections. It is not intended to be a quality assurance scheme for workshops or inspection providers, nor is it intended to assist or advise you in meeting your legal responsibilities, such as health, safety and environmental law.
The following process applies to each Inspection Provider wishing to inspect vehicles and issue passes under SLPS